"O children of Adam, We have sent down to you the dress that covers your shame and provides adornment. As for the dress of Taqwa (piety), that is the best…" (Quran, 7: 26)
London Islamic School strives to promote a sense of self-respect, ownership and identity through its uniform.
Procedures
The purpose of uniform is not just clothing, rather it holds many benefits:
Allows students to feel proud and not ashamed to wear cultural clothing of the time of Rasulullah (SAW) in a western society.
By wearing the same clothes it allows students to feel they are equal no matter what nationality, colour or background they are from.
Allows students to feel that they are proud of being a part of the school.
School uniform enhances this feeling of belonging.
School uniform prevents the inevitable loss of self-esteem caused to individual students should a family not be able or willing to provide the newest, most expensive or most fashionable clothing and equipment.
School Uniform
London Islamic School Uniform consists of:
Plain long white Thobe with round neck collar (No embroidery which is usually around the button section, No Hood) the length being just above the ankles.
Plain Black Trousers which MUST be cut/rolled and stitched above the ankle and NOT just rolled up
Plain Black Socks
LIS Black Fleece or Cardigan (Purchased from supplier)
Plain white T-shirt or vest as undergarment
White Hat (Purchased from school)
Black Hat ONLY for prefects (Purchased from school)
Plain white turban ONLY for Y9 & KS4 (Optional)
Please note the purchase of the hat, fleece / cardigan is mandatory (MUST), NO students will be allowed to wear jackets or non uniform jumpers in school regardless of weather conditions.
P.E Kit
For All Year Groups
Item
Description
Where MUST it be purchased from
Top
Royal blue polyester top with LIS logo
Ocean Design Ltd, Watney Market, 10 Watney Street, London E1 2PR
Bottom
Navy blue polyester
Socks
White trainer socks (shin length)
Any shop
Jewellery
On health and safety grounds we do not allow children to wear jewellery in our school. There is no exception to this rule.
Prefects
Prefects will wear a black hat with the same design as the white school uniform hat in order to distinguish them as school Prefects.
Haircuts
The school does not permit children to have 'extreme' haircuts that do not conform to the rules of Islam or could serve as a distraction to other children. Hair should be cut in one length only.
The Role of Teachers
We ask teachers to support the school uniform policy by ensuring students are all in uniform.
The Role of Parents
We ask all parents who send their children to our school to support the school uniform policy. It is the responsibility of parents to ensure that their child has the correct uniform and that it is clean and in good repair.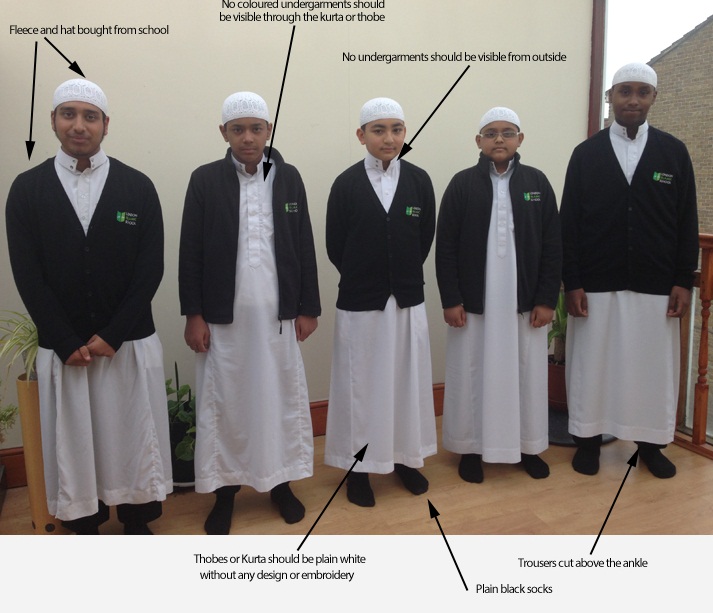 Approved uniform supplier:
Ocean designs Ltd, Watney Market, 10 Watney Street, London E1 2PR – (for all items of uniform except Thobe, Hat and Turban)