School children from London Islamic School joined Britain's Got Talent Judge and children's author David Walliams to appeal to the Prime Minister for action on global hunger
THURSDAY 6TH JUNE: Pupils from London Islamic School in East London joined 'Enough Food for Everyone IF' supporter, David Walliams, for a once in a lifetime opportunity to meet Prime Minister David Cameron yesterday and call for action to tackle global hunger.
The Prime Minister was presented with specially crafted plates from each of the children, representing more than 30,000 plates that have been decorated by school children across the UK. The plea came ahead of the G8 meeting in Northern Ireland later in the month and the Nutrition for Growth Summit that the UK Government will host in London on Saturday, 8 June.

David Walliams joined the children, chosen as one of 21 schools, in support of the 'Enough Food for Everyone IF' campaign, to show the Prime Minister that they are calling for action to tackle the global hunger crisis that is responsible for almost half of child deaths every year.
Around the world one in eight people do not have enough food to eat and nearly one in 4 children under the age of 5 are also affected by poor nutrition, leaving them unable to reach their full potential.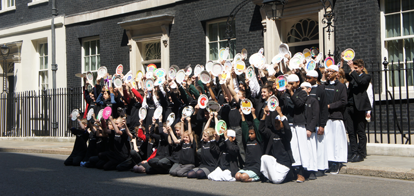 11 year old Sheikh Hammad Hamidi from London Islamic School was one of the lucky pupils to make the trip to the capital. He said:
"It was a very interesting experience as I took part in something which I can remember for the rest of my life. I hope other young children get the opportunity to do what I have done today. My future generation will always be part of the IF campaign"

Mohammad Yaser, Creative & Aesthetic teacher at London Islamic School added:
""This was a fantastic opportunity for our school, it has truly opened our eyes to see other communities playing a great part in such a noble campaign. As Muslims we should be taking a leading role and I saw something different today. We are proud to be part of the IF campaign alongside other communities, and we hope we will go down in history by ending hunger".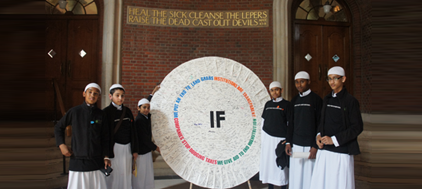 Monowara Gani, Development Education Manager at MADE in Europe and a member of the Enough Food For Everyone IF campaign said
"Alhamdulillah it was wonderful working with London Islamic School, the teachers are very open and understanding about the importance of learning about global development topics such as hunger, and it is through their involvement in the teacher training and class room learning that resulted in the invitation to Downing St. The pupils were fantastic and were a great representation for Islam and Muslims; they were confident, well mannered and even got a 1-2-1 conversation with David Walliams who also attended the hand in. We look forward to working with LIS on other development topics in the future."