London Islamic School wins the Mayor of London's Team London Environment and Healthy Living Award 2017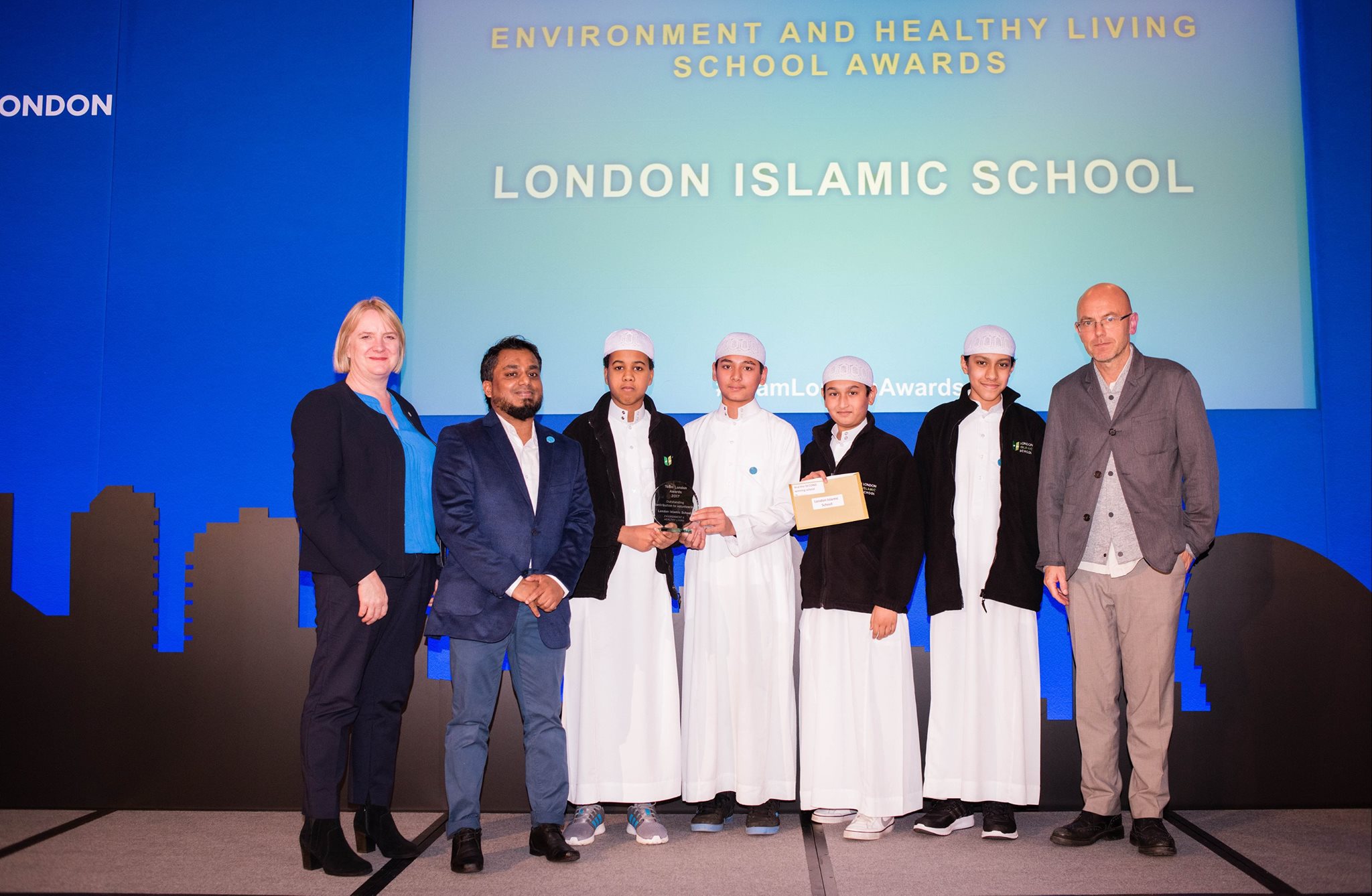 London Islamic School, a Muslim Secondary school for boys, situated at Esha'atul Islam Cultural Centre and Ford Square Mosque, Tower Hamlets, has been awarded the Team London Environment and Healthy Living Award 2017 for outstanding contribution to volunteering. This was awarded on Monday the 6th November 2017 in a prestigious gala conference at The Chambers, City Hall attended by a long list of high profile prestigious guests including Joanne McCartney – Deputy Mayor of London, James Banks – Chief Executive at Greater London Volunteering, Dame Barbara Windsor DBE – Actress well known as Peggy Mitchell in the soap opera Eastenders, Dr Alison Mowbray – Olympic medallist and leadership development consultant, Christopher Biggins – A national British treasure actor and television presenter, Stephen Green – Chief Executive Officer and co-founder of RockCorps global youth movement, Wayne Hemingway MBE – Award winning designer, Colonel Hugh Purcell – Chief Executive Officer of the Greater London and City Reserves Forces and Cadets' Association, Laura Brown – Community Development Manager at Marylebone Cricket Club amongst many.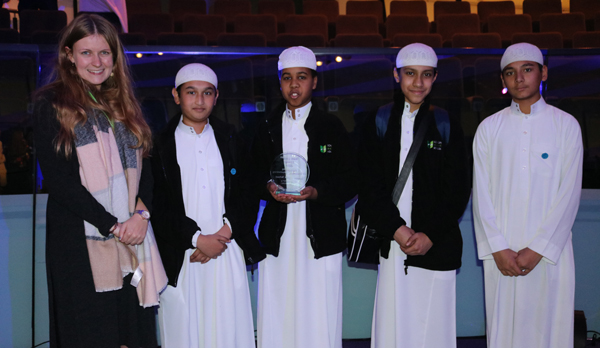 The Team London Awards ceremony celebrates the individuals, teams and corporate volunteers who are making outstanding contributions as active citizens in their communities and helping to make the capital, London, the best city it can be. Each day, tens of thousands of volunteers help charities to deliver their services. The Awards are one of the ways the Mayor of London recognises some of those volunteers who go above and beyond to create better local communities. This includes the Mayor's volunteering scheme, Team London Young Ambassadors which helps primary and secondary pupils to start their own volunteering projects.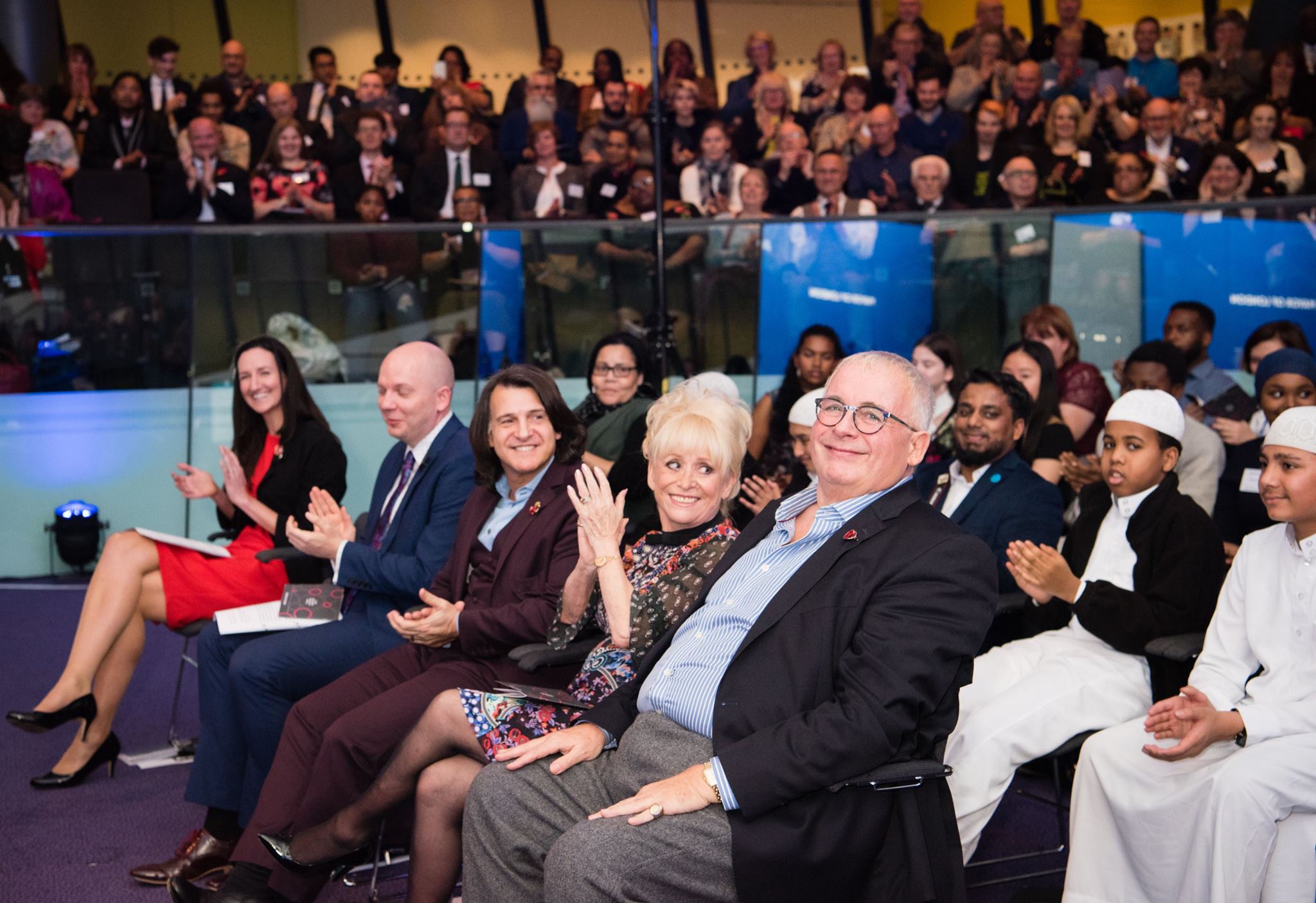 Thousands of young people have improved their school and communities by setting up projects on issues they care about such as food poverty, homelessness, bullying, connecting generations and the environment. Schools who participate in the Young Ambassadors receive an assembly, a workshop, invitations to youth summits, handbooks and campaign kits. It has reached 400,000 young people, inspired 120,000 people to volunteer, raised £100,000 for local causes and worked in 2,100 schools. Since Team London launched in 2012, over 150,000 adults and 100,000 young Londoners have joined the programme.
London Islamic School achieved this award for providing opportunities in volunteering through its Youth Travel Ambassadors scheme.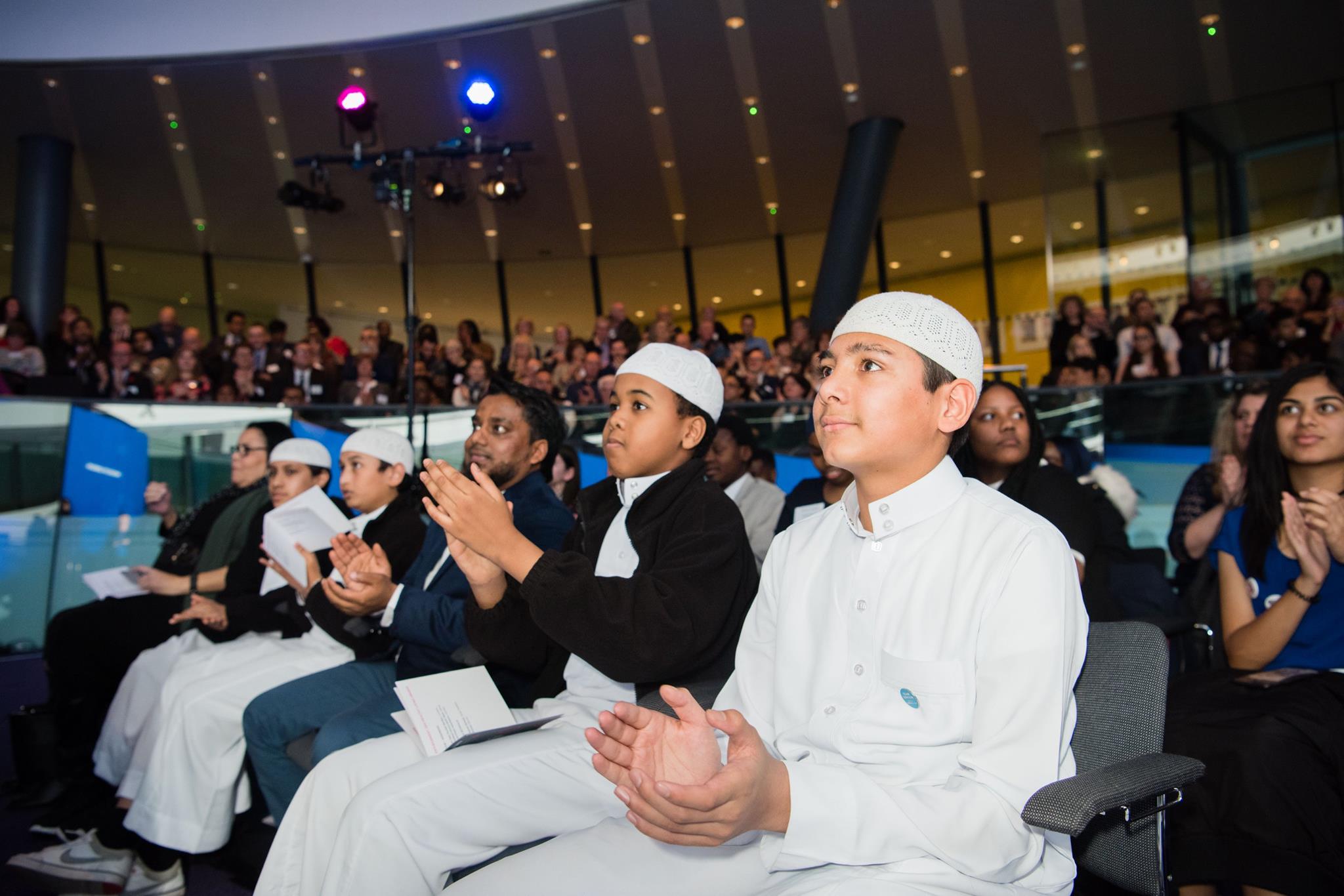 Youth Travel Ambassadors comprises of a number of student volunteers working in partnership with the transport for London to promote active travel in the school and community. The team came up with a project they named Energy & Safety: Our Priority #Energize which involved a campaign consisting of a series of team led assemblies as well as partner assemblies with NGO's educating students and staff about safe and responsible travel, health and wellbeing. They set up a wall of pledges for students to record their commitment, a parents coffee morning to introduce the wall pledges and the project, walking zones maps and education of safe and responsible travel, personalised Oyster wallets with school logo and slogan, an active travel week comprising of bus or buddy scheme and inter form competitions with rewards and use of pedometers to increase activity which measured improvements through surveys and graphs. Finally, their progress was presented to a group of transport expert panellists at the Tfl Head Office in Westminster in a Dragons' Den style pitching event to secure funding, advice and support to enable them to continue developing their project with their project attaining full funds. They then went on to organise an active travel fun day made of activities where partner organisations, students and parents attended which promote active travel and health even further. Most of this was done during lunch times and break times by students.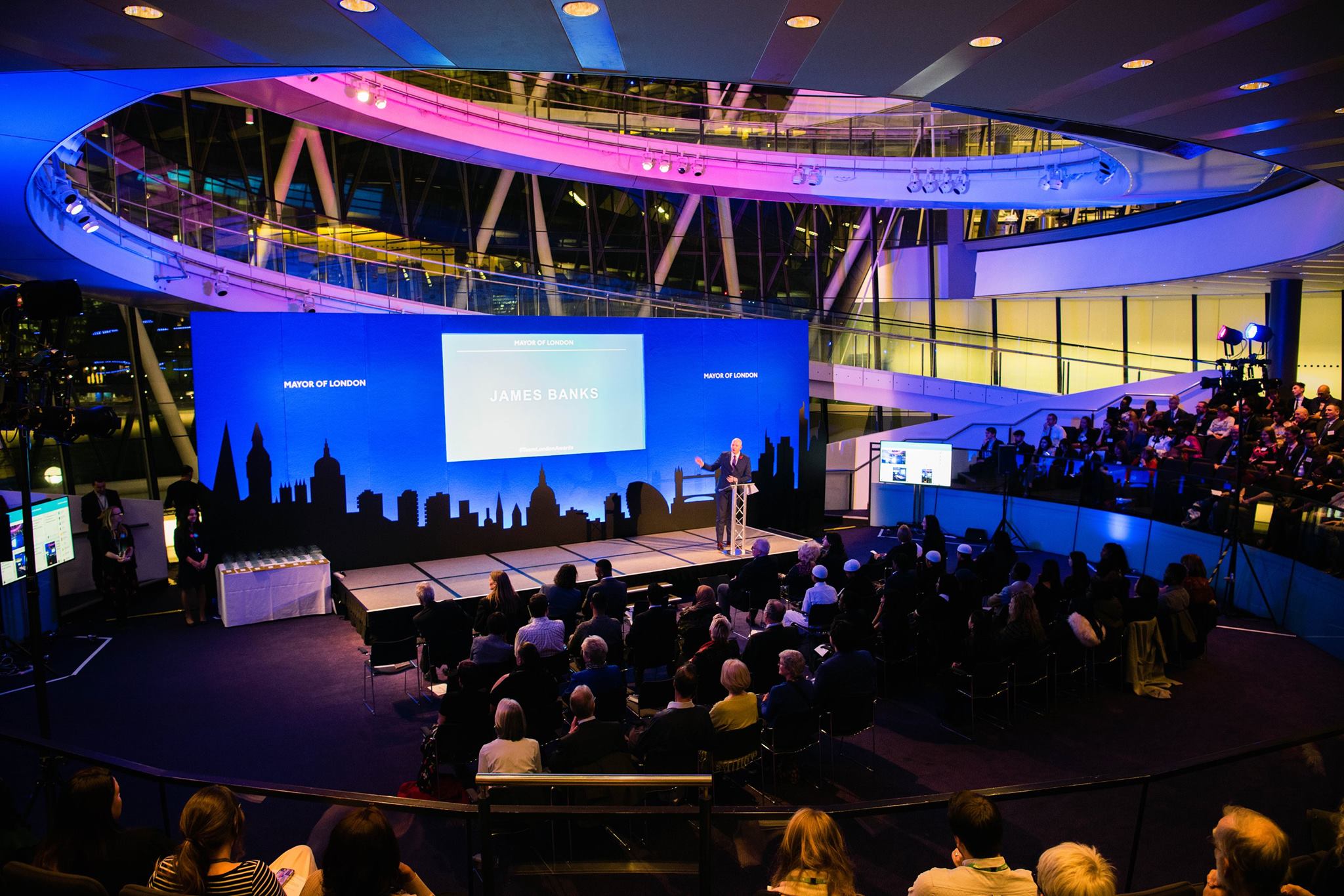 The Head of Citizenship at London Islamic School, Mohammed Yaser , was inspired by the benefits of volunteering in the YTA, he decided to enhance opportunities in volunteering and accessed the Mayor's volunteering programme through the organisation 'WE Schools' which is a unique, four-step global programme that challenges young people to identify the local and global issues such as hunger, poverty and poor access to education or others which spark their passion and then empowers them with the tools to take action through at least one local and one global campaign. Mohammed Yaser selected a group of interested candidates who wanted to make an impact in society and attended the Team London Young Ambassador Copperbox Youth Summit in October 2016. Inspired by what they heard, with the help of WE schools, the pupils identified problems within Tower Hamlets and opportunities to get more involved in their local community and volunteer their time to help others outside of school. Since then the students have volunteered in a local homeless food banks and elderly peoples homes in a structured 6 week campaign where they learnt about the issue, networked with local charities and organisations who are experts in the area and finally executed their social action plan by volunteering at the organisation.
Speaking to Waseem Nawaz from year 9 who is an active volunteer in the Youth Travel Ambassadors scheme, he said:
"My experience in YTA has really been an eye opener as I have done things I never thought I would be able to do. My team and I have developed our communication skills, organisation skills and confidence along with many other skills, but most importantly we have developed as people ready to serve humanity."
Mohammad Yaser, Head of Citizenship at London Islamic School, said,
"The entire volunteering project from start to finish was an amazing experience for the boys and all involved. This experience has provided the YTA boys with an insight of the real world. What I aspire for the students through my Citizenship & Creative and Aesthetic lessons is to take the knowledge and put it into action. Not just educating them in class, to get the boys to understand why volunteering and giving up our time is so important. This has also enabled me to take the boys outside the classroom and get them socially active by working alongside local organisations such as TFL, Metropolitan Police, Local Food bank, elderly care homes, GrowTH, Clean Up UK, and other NGOs. To build bridges with our local multi-faith communities and their places of worship, by working together we can build a safer, greener, cleaner active borough and city. The organisation and hospitality at The Chambers, City Hall was first class. The participating boys were truly magnificent. I would like to take this opportunity to thank our partner WE School's Coordinator for advising and guiding me into entering our school for the Mayor of London's Team London Awards. I would also like to thank TFL's YTA Coordinator Fiona who has been actively supporting us in our Energy & Safety project to make our school, streets and community a better place to live in."